I made a bet with a friend that IF, in fact Chrianna was no longer together, they would be back together in less than 72 hours. And what'll ya know, I won. I knew I was gonna win because my boyfriend and I break up every other day. Lol. Yes, I did report the story earlier this week that it was true, but it is my job to let y'all know what's going on.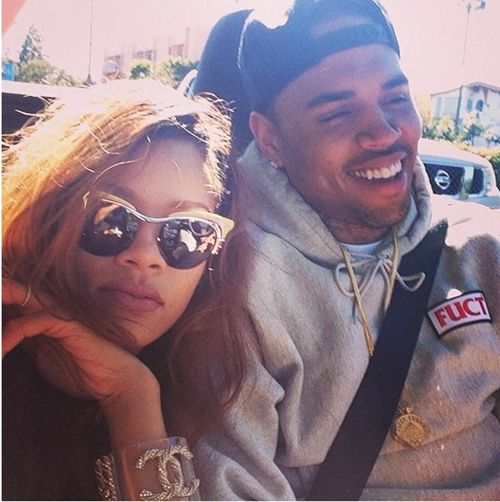 Rihanna Instagrammed a picture of her and Breezy riding around and gettin it  yesterday somewhere in L.A. after she finished up a show of her Diamonds Tour in Anaheim, CA. At the same show, right after her Grand Givenchy entrance she professed that cant understand love. Right before introducing her "What Now" heartache style song off her Unapologetic album, Ri told the crowd:
'How many of you are in love?…How many of you hate love? How many of you don't f**king understand it? I'm in that group.'
Chris Breezy was definitely at her show in LA to show support, which was the first clue the break up rumors were just rumors. He sat in VIP behind a sound man to dodge the paps, but fans were definitely lurked out.
The bad gal continued to post pics throughout the day and gave a shoutout to Chris' upcoming album X saying, "Yellow model chick in my yellow ass dress wit my yellow nigga X."