Baby, Guccimane done got out of jail and he is going in on everybody. His social media of choice: Twitter. *drops head in hand* He would have done better doing a video or a song dissing everyboody because reading his tweets will give you a migrane.
What happened?(From what I saw) Last night Guccimane went on twitter and decided to talk about what "really" happens in the music industry and started calling out people like Waka Flacka, T.I. Jeezy, saying he has had a threesome with Nicki Minaj and Blacc Chyna, etc. Maybe his anger stems from him recently being dropped from his label Interscope Records, who knows #purpshrug.
Then, he was trying to get Nicki Minaj and Tyga to do a song with him, Tyga asked Nicki via text and her response "Not interested". Nicki then posted the convo on her IG. That set Guccimane off on the tirade of the biggest "tell-all" in hip hop since Supa Head's book.
A little background: according to Tyga, Guccimane has HIVand nobody wants anything to do with him.
That's the summary of events.
  Here are all of Gucci's tweets, please dont try to think while reading: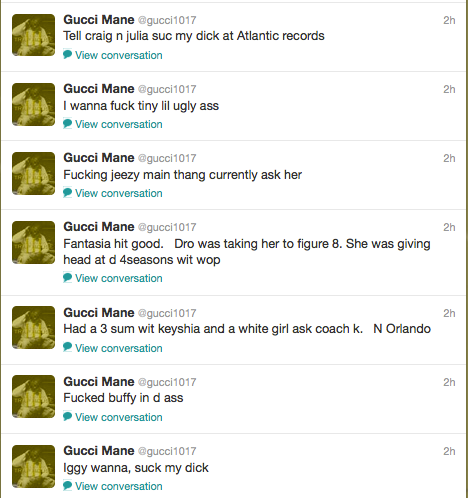 Nicki deleted her tweets but I caught some of them:
May God strike me dead if I ever had sex wit that man. Lmfaoooooooooo. N-gga da way ya #ugliness is set up #BubbaGump #crackhead
I'm rlly cracking up. He's fighting so hard for one more ounce of relevance. Tyga and I turned down his feature request last Thursday.
Career aint goin nowhere like horses in da stable/ b-tch I'm in the mansion, flossin, clickin cable.
Gucci look like a upset stomach

Ok Gee called me. *goes back to playing nice* that was fun tho. I'm praying 4 him. 4real. He's sick and in dire need of rehab. #Love