METAIRIE, La. — The New Orleans Pelicans now have uniforms to go with a new team name, emblems and color scheme the NBA franchise released earlier this year.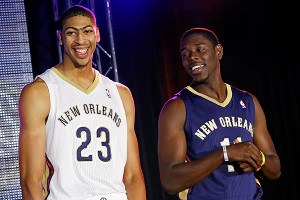 Layne Murdoch/NBAE/Getty ImagesAnthony Davis (left) and Jrue Holiday showcase the Pelicans' new uniforms.
The club, which competed as the Hornets last season, unveiled new uniforms Thursday on new practice courts built alongside the headquarters of the NFL's Saints in suburban New Orleans.
The home uniforms are white with gold and red trim, with "New Orleans" written in navy blue across the front, along with blue numbers.
The road uniforms are navy blue with the same trim, but with lettering and numbers in white.
The club's primary logo, with a basketball tucked under a soaring pelican's beak, appears on the sides of the shorts.
Forward Anthony Davis says he's eager to wear the uniform in games.
Via.ESPN
Copyright 2013 by The Associated Press