NeNe Leakes' much talked abut spinoff show is official.  Her wedding special, "I Dream Of NeNe" will air on Bravo soon.  Deets inside, plus the newest drama with NeNe's half sister who's threatening to EXPOSE her!
She's planning a re-wedding with her ex husband Gregg Leakes.  And, of course, it'll be all captured for the BRAVO cameras as the network has ordered a full order of NeNe's new wedding themed spinoff show, "I Dream Of NeNe."
NeNe's enlisting Tiffany Cook for her nuptials (the same person who did co-star Porsha Stewart's wedding) and Marlo Hampton will return as part of her bridal party.  Co-star Cynthia Bailey is reportedly also a bridesmaid.
The show will premiere this fall, so get ready.  NeNe's also made another appearance as Coach Roz tonight on "Glee," and is waiting to see if the NBC show "The New Normal," which she also stars in, gets renewed.
But it isn't all white roses on the home front for Mrs. Leakes.  Her half sister Kenya Sherman (pictured above side by side with her and NeNe's mom)–you know, the one she accused co-star Phaedra Parks of contacting, filming with and using to dig up dirt on NeNe–is extra pissy these days.
Apparently, Kenya wasn't feeling everything NeNe was saying during last Sunday's reunion show when she was going hard at Phaedra for having ill intentions for inviting said half sister to baby Ayden's birthday party.
The half sister says NeNe has cut off ties with her and the rest fo the family,a nd she's pissed she's acting like the victim.  Now, half sister Kenya has been using her Twitter account to threaten to expose NeNe.
Apparently, some family drama went down–that involved money and schemes headed off by NeNe & Gregg that affected the family–and things haven't been right since.
And we hear all that tea was spilled during filming of this past season when Phaedra got half sister Kenya to come sit down with her to dish on camera.  Some type of mysterious way, THAT footage ended up on the cutting room floor.  Kenya tweeted:
I DID FILM FOR A BDAY PARTY ON RHOA BUT @NeNeLeakes THREATEN TO QUIT SHOW & THEY DIDNT SHOW IT #TRUTH
Kenya, who calls herself a "successful" celebrity hairstylist who lives in Atlanta, is also pissed NeNe keeps calling her HALF sister, since they have the same mom.  I mean, technically, they ARE half sisters.  But I feel what she's saying…
Anywho, here's what Kenya's been saying on her Twitter:
Hey well at least we know ppl can manipulate networks just to get a FREE wedding & exposure SMH

it's funny how some ppl will lie cheat steal & even throw their family under the bus for FAME #illuminati? No just a #FRAUD

I'm not doin this to defame @NeNeLeakes BUT to clear up the "sex, lies & reality tv" hype to "FAME"

I'm NOT half sis to @NeNeLeakes we have the SAME mother we are biological & she lived with me when she met Greg #KnowAllTheTea

I'm estranged sis of @neneleakes & there's more than what meets the public or reality tv eye #trust
Oh, but there's more.  Kenya posted the above pic as today's Throwback Thursday image just to prove her point even further.  She said, "Me and my sisters."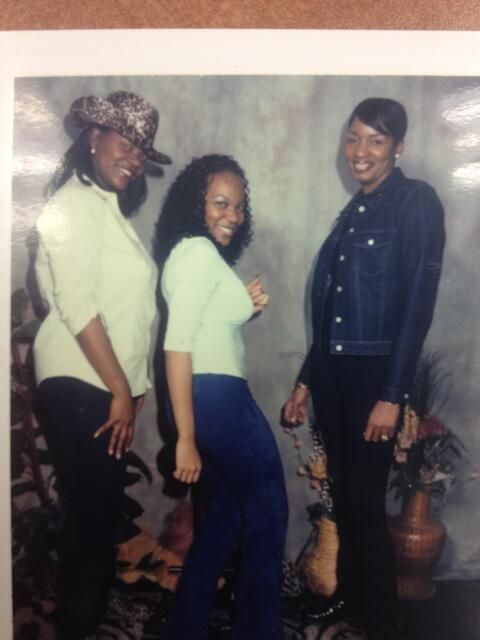 And it's Kenya's Twitter profile description that has us in tears:
ESTRANGED & BIOLOGICAL SISTER TO @NENELEAKES (Only if @bravotv knew about the #rhoa diva as I do) & Owner of Salon N.Y.C Celebrity Stylist & Custom Wig Maker
SOURCE: theybf.com