Earlier this week, Katy Perry heard Cheif Keesong latest hit song on the radio and decided to go on twitter to express Howe it made her feel. In the song, "Hate Being Sober," Chief Keef raps about being anti-sober, while taking molly and rolling up.   He also has lines like, "My b-tches love drinking, some love smoking, Let my alcoholic b-tch hit the dope, she start choking."  Ugh
In case you missed it, in the same week, he was arrested in Atlanta for smoking weed in his hotel room. That didnt stop him from replying to Katy Perry on twitter.
Cheif Keef went extremely too hard on Katy Perry. He can't get mad at people Ffor having an opinion. It's clear he's still a child.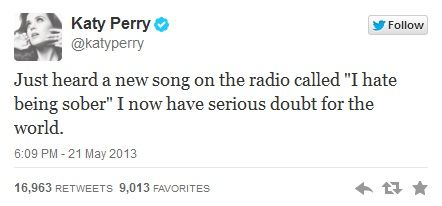 Although Katy's statement was very "general" and didn't directly insult the rapper…he really got pissed.
After she got wind of the tweets, Katy did not want to rumble with the rapper (who has an extensive arrest record) so she apologized (though we don't think he deserved one).