Kanye West has been friendly with American VOGUE editor Anna Wintour over the years, and now industry people are saying that he is trying very hard to secure Kim a VOGUE cover.  So what's the problem?
We all know that Anna Wintour is NOT A Star Magazine reports that Anna's disgust with Kim's rise to fame had her stating that Kim would only grace Vogue's cover, "over her dead body."   Ms. Wintour is well known for valuing quality over numbers.
The mag went on to say that while Anna sings Kanye's praises, she thinks of Kim as 'the worst thing since socks and sandals'.
Though the "alleged" feud between Anna and Kim does not seem to be personal, there have been a number of swipes and jabs on behalf of Ms. Wintour. The most high-profile jab was the alleged banning of Kim from The Met Ball.  The gala, which many celebrity/fashion insiders consider to be the hottest ticket of the year, has NEVER invited Kim.  And Anna Wintour controls who makes the list.  One source told Radar Online, "Anna hates Kim. Why would she be invited to the event? It is all the biggest stars in the world and Kim doesn't fit that bill at all."  In fact, last year, Kanye West went to the gala solo….Kim stayed in LA.
*Cue up the Countess' 'Money Can't Buy You Class'*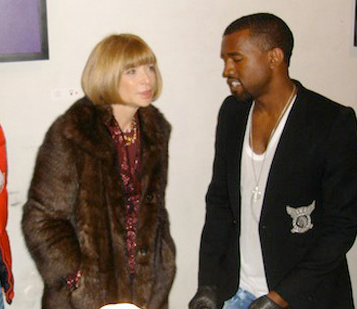 It was also reported that Anna ignored Kim at New York Fashion Week last September.
But there is hope for Kim at last…as far at The Met Ball is concerned.  Kanye is slated to perform at this year's punk-themed gala on May 6, and we're sure Kim won't be "banned" now that she's the mother of the performer's child.  Just as we predicted, this baby will be her ticket to more things than necessary.
SOURCE: theybf.com